My Chadar Experience
I'm back from the challenging yet most mesmerising and life-altering trek – the "CHADAR TREK". This post is an attempt to capture my experience and some important life-lessons I was able to come back with. Let me start by admitting that any attempt at capturing this experience in words does not do enough justice to the experience one has in the Himalayas. They're way too mesmerising.
"Chadar" is an indian translation for the word "Blanket" which in this context refers to a Blanket of Ice. I think I found my "zen" at 3060 meters in -30 degrees celsius. The moment I got back to the city I hated it all – the people, the traffic, the noise, the weather, the chaos, the complaints, just about everything. It just didn't feel right – but well this is the reality I live in and here is where I have to be.
The Himalayas are the one of the most mesmerising mountain ranges in the world. I owe the credit for going on this trek to one of my closest mates "Chirantan" or "Chiru" who convinced me to come along. I had done a few local treks, a few full day and over night ones but nothing of the kind I was heading into. I didn't understand high-altitude cerebral oedema, frostbites, or any other other challenges and risks I was getting into. The only aspect about this was the exhilarating feeling of hiking in low temperatures and the feeling of having conquered my first major trek.
We chose IndiaHikes (IH) as the hiking company for this hike. Among most of the companies IH stood out with the knowledge, the experience and their drive to leave an almost zero carbon footprint while on our hike.
The Trek Experience
This is what our each day was like from landing in Leh to hiking through each day and back.
Day 0 and Day 1 : Land in Leh, checkin to the hotel and acclimatise
We landed in Leh 2 days prior to reporting to acclimatise. IH had one day for acclimatisation however Chiru was adamant we take 2 days. He was so right. I was barely able to walk 200 meters before having the need to sit down. It took me 2 days to be able to breathe normally. Acclimatisation is key.
Day 2: Drive to Chilling and Trek to Tilat Sumdo
This is a 3 hour long drive to Chilling where you will start your walk on the beautiful frozen Zanskar river. Chilling is about 64 kms from Leh. You will pass one of the many army establishments before you reach Nimu and then drive along the Zanskar. Once you stop and gear up, you will get down to the ice sheet and start walking to Tilat Sumdo which is about an hour (3 kms) from the starting point.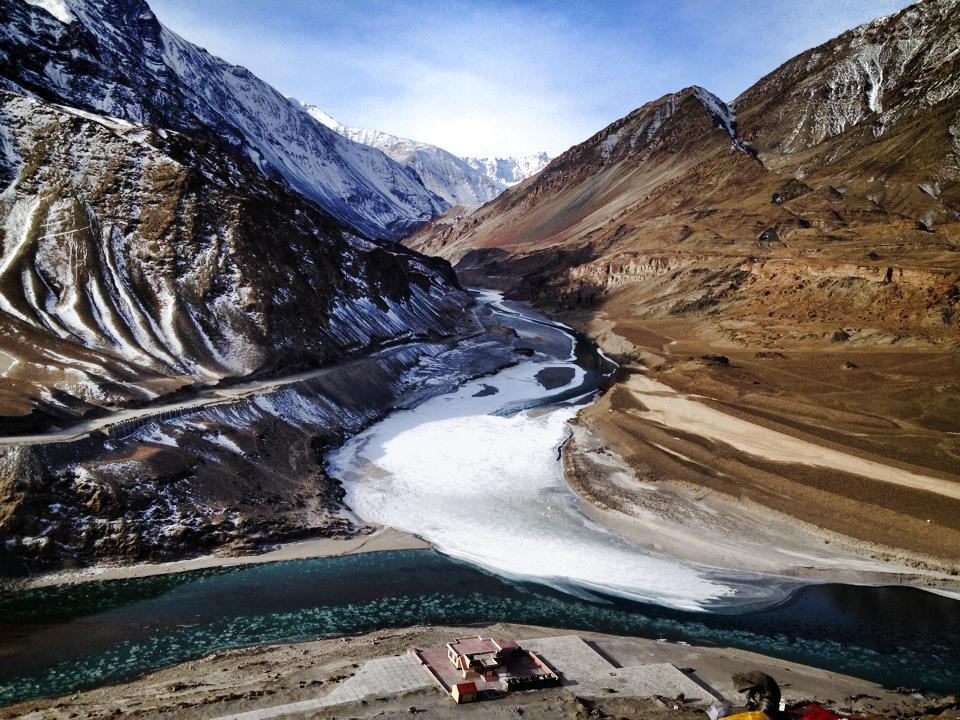 Walking on the ice for the first time is also another experience. Its not the same as walking in any snowy mountain. When you gear up with your spikes, the screeching sounds can be irritating but you will soon get used to it. The spikes are your friend.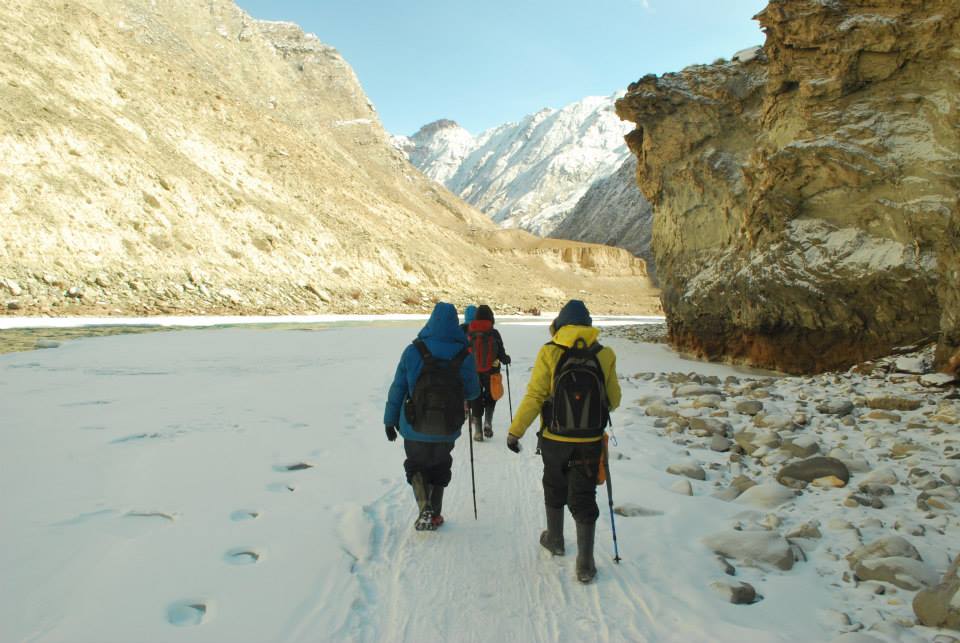 We reached Tilat Sumdo and setup camp for the day. Got served with hot cup of tea and some amazing food.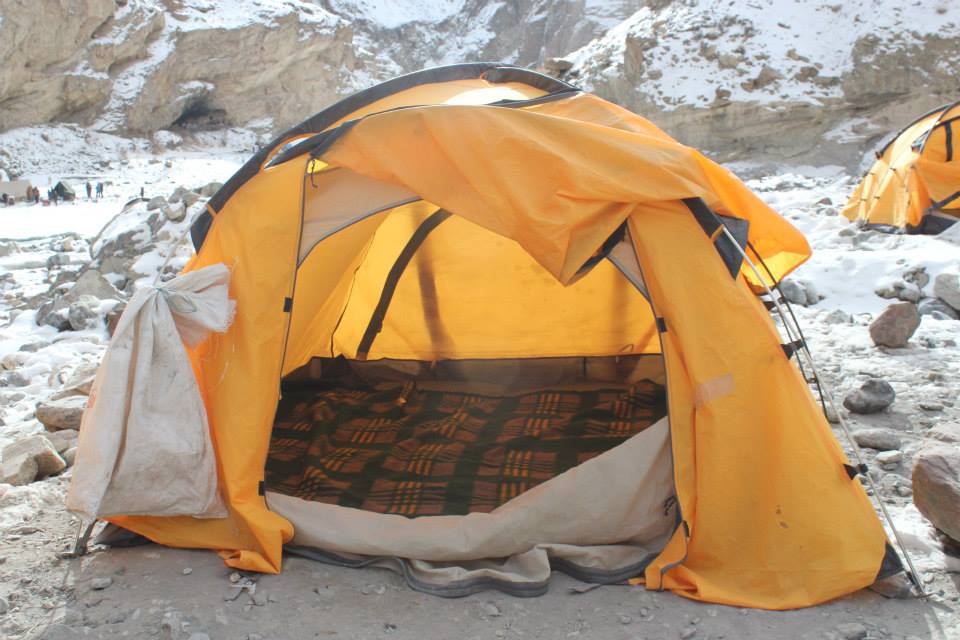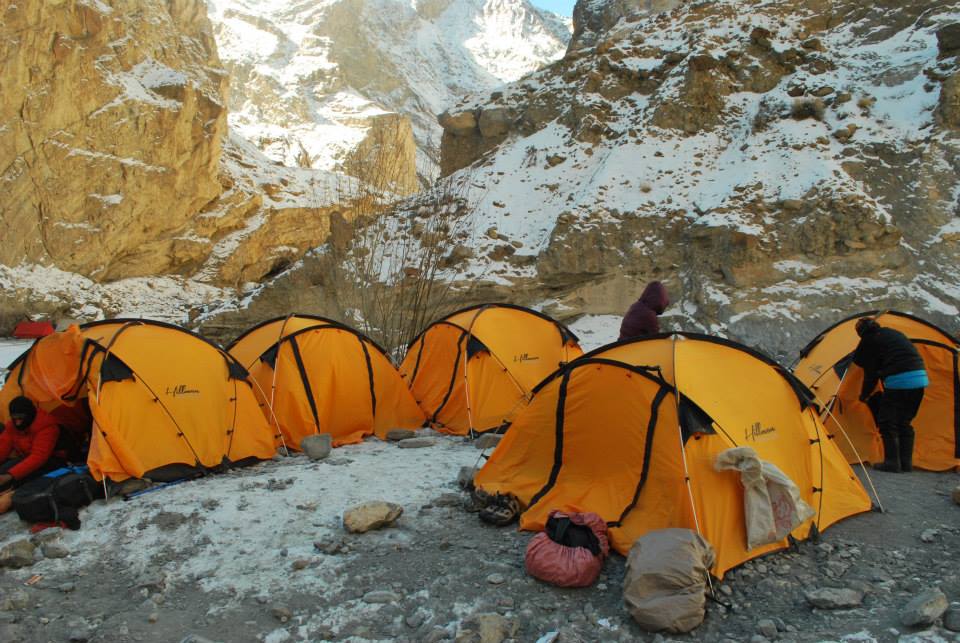 Day 3: Trek from Tilat Sumdo to Shingra Koma
The first night and the first morning on the ice was the toughest. We were tired carrying the weight of our bags (which I ended up overpacking), sleeping on an ice-hard floor with a bad air pillow, and being stuffed up in two sleeping bags one inside the other with a hot water bag in between the sleeping bags. The worst part was having to get up to pee in the middle of the night. Imagine having to unzip both the sleeping bags in pitch darkness and having to wear your jacket and shoes and going out to pee. You start to respect the comfort of your home.

The first morning was around 6:30am with barely any sunlight and heat. My bladder woke me up and it was time for some hot tea. We were served some delicious 'upma'. I was astonished to found out how well prepared the porters were. We had to pack out stuff, fold the tent and be ready to start walking. It was the most beautiful morning ever. Once the sun was out it wasn't as cold even though it was about -15 degrees celsius.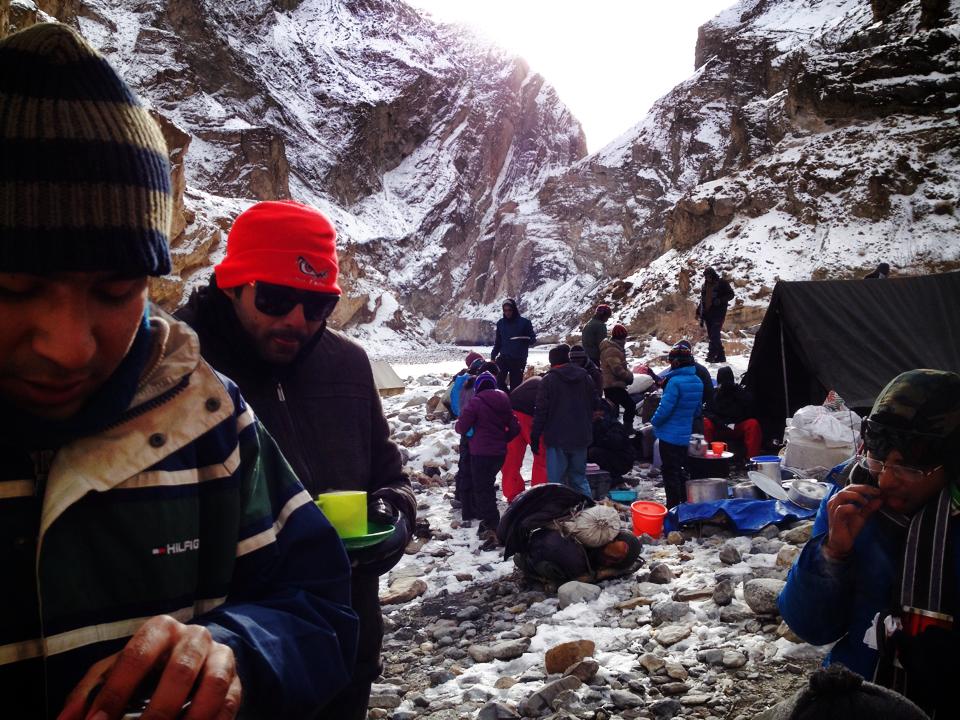 Shingra Koma is about 10 kms from Tilat Sumdo. This took us about 7.5 hours considering we were a rebellious group. We didn't stick to our break times and took unusual number of toilet breaks. On our way we saw a few girls covered in what looked like rags and old jackets were walking in the opposite direction. The local guide informed us that these were girls from Nerak who hike to Leh to go to school once a week. They finish the entire hike in 1 day. I couldn't even fathom the thought of having to do this hike in one day. I started to appreciate the education and life we have back home. I appreciate the little conveniences and the opportunities we have in front of us and yet we remain choosy or ignorant.
The porters cooked some amazing maggi, tea and biscuits on our pit-stops.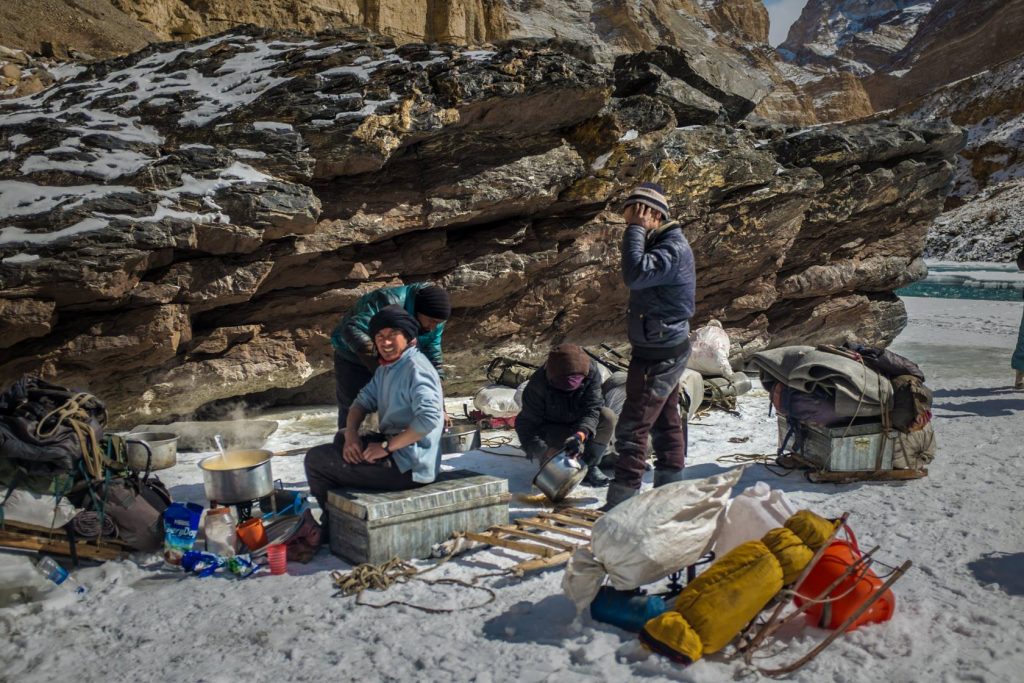 I couldn't resist taking a quick nap. Even though it was so cold, the hike was tiring. What was even more surprising for me was my facial skin getting burnt and tanned due to UV bouncing off the ice.
We reached Shingra Koma early evening and started to camp. It was important to camp during sunlight with enough time to cook and eat dinner and clean and packup for the next day.
Day 4: Trek from Shingra Koma to Tibb
By day 4 or our third day on ice, we were all packed and ready by 8am. Day 4 trek was going to be the longest. The distance from Shingra Koma to Tibb was about 15 kms which usually took about 8 hours. This is also one of the most scenic days of the trek.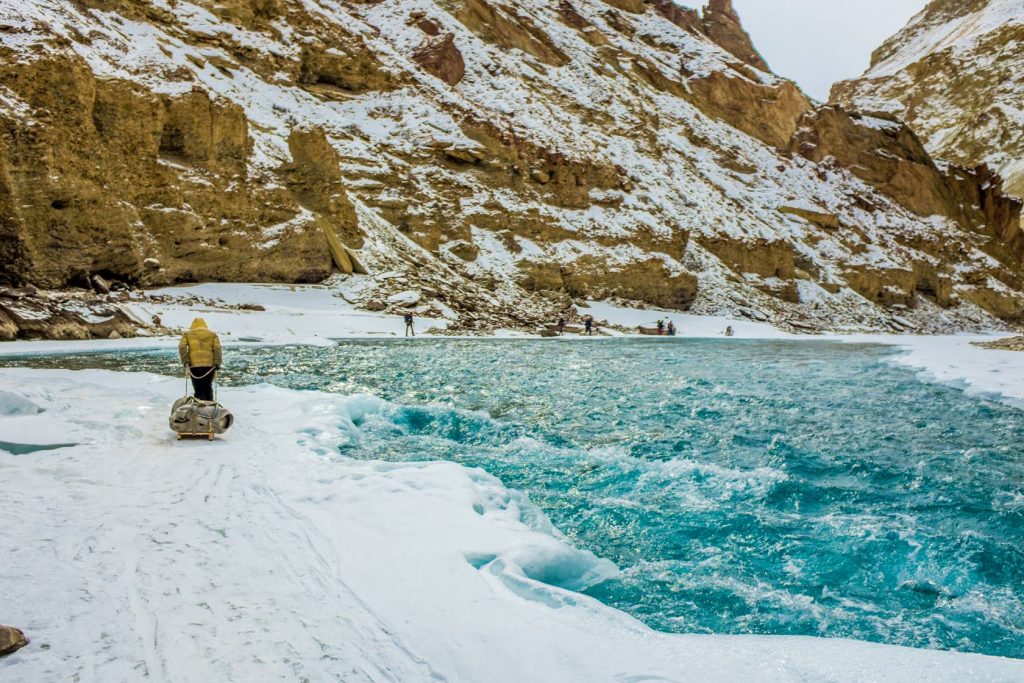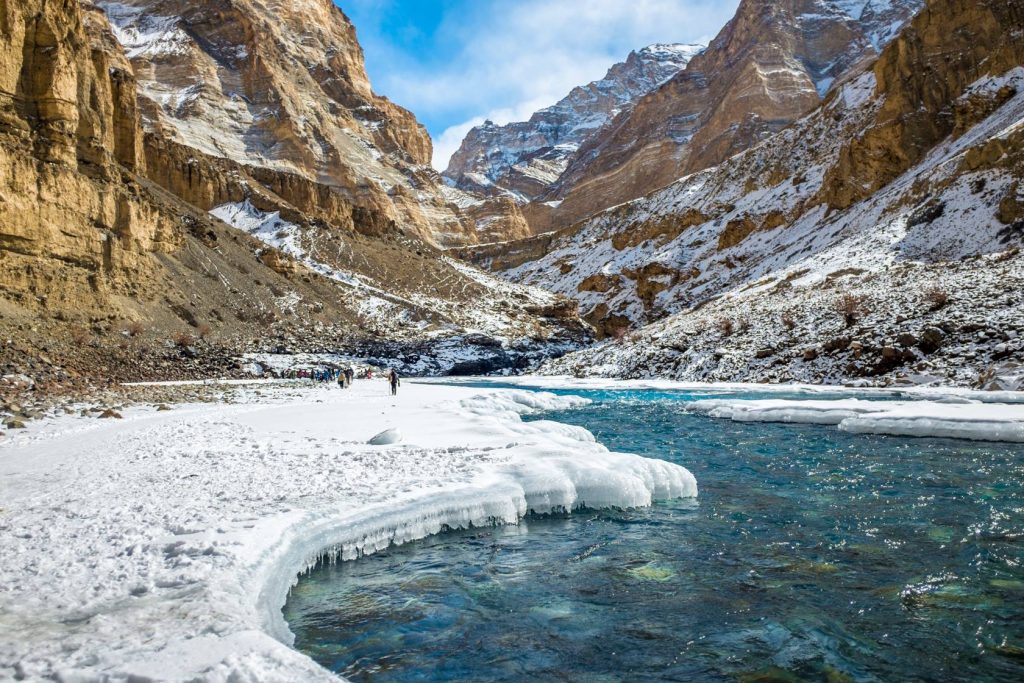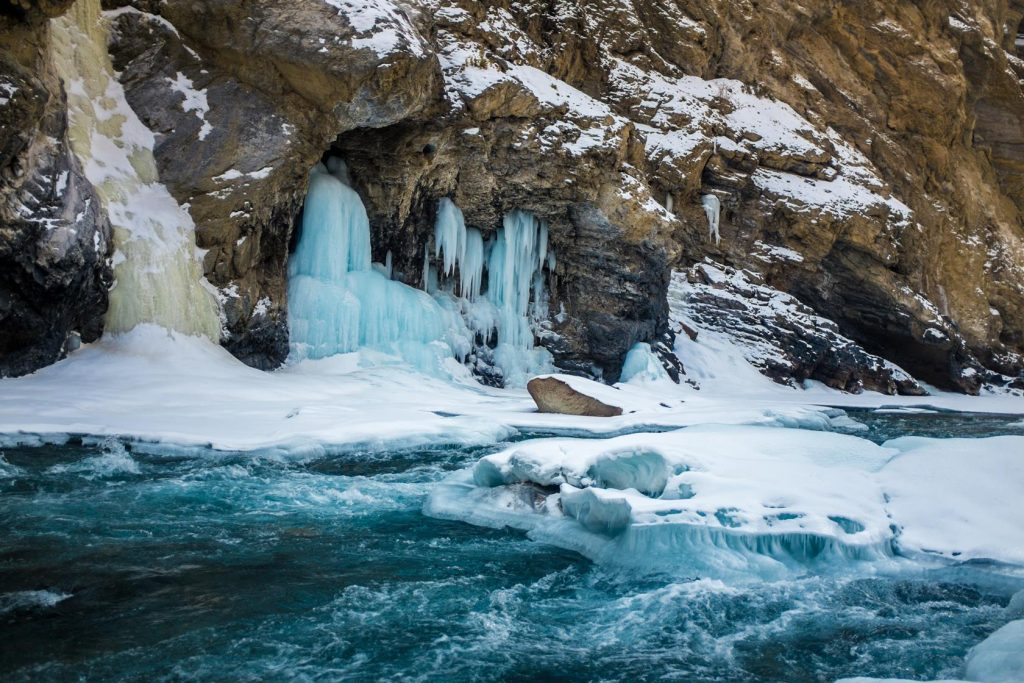 One will observe heaps of spots with no sunlight and a full chadar, frozen waterfalls and lots of whirlpools. Beware of the whirlpools. If you get sucked in, there is no way your body will be recovered.

The camping spot near Tibb is a large section with a few caves on the opposite side. We chose to camp in an open high ground as we had been hearing about the ice sheet melting which could result in water levels rising. We camped for the day and as a daily evening ritual started with some hot tea. I have to confess one of my most adventurous hygiene activity I am mostly proud of at 3060 meters. I shampooed my hair. That sounds simple and yet consider the fact that I was still in negative temperatures and couldn't fully unclothe. I couldn't stand my dry scalp and it is one of the effects of staying in extreme temperatures.
We had a small group of army soldiers passing by and their commanding officer got stuck in the Chadar. From afar this looked like an easy extraction however the drama that unfolded was confusing and entertaining at the same time. The officer was half way into the Chadar waist below. Our trek guide ran over to help. The officer started to scream in pain due to the cold water flowing below. What was actually happening was the water was started to freeze and only they all understood what that would mean for the officer – imminent life danger. Our trek guide asked him to take his backpack off and roll. This manoeuvre caused him to slowly yet easily come out of the loose ice. All this happened in a span of 10 minutes yet seemed like a lifetime.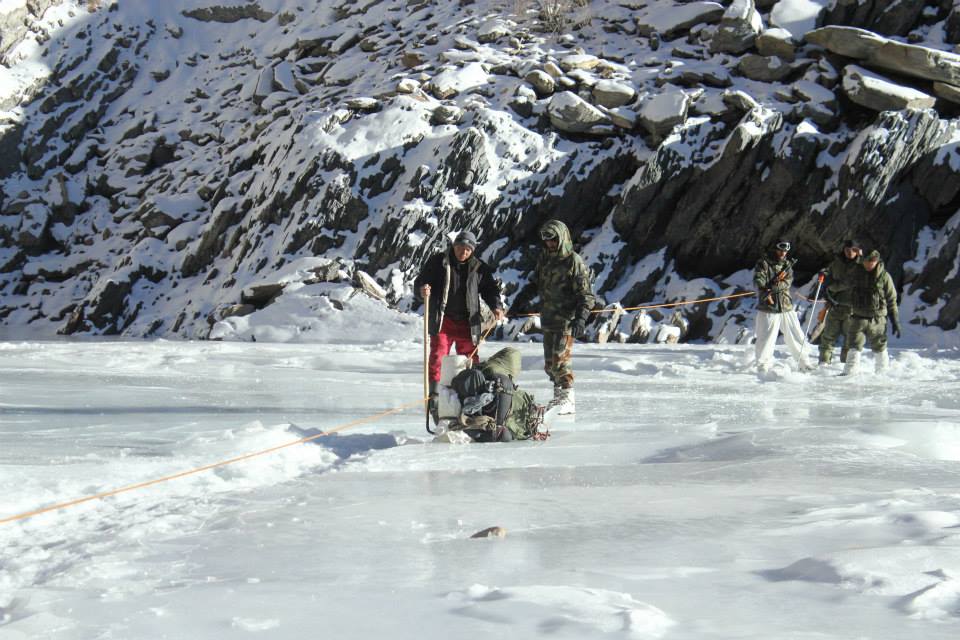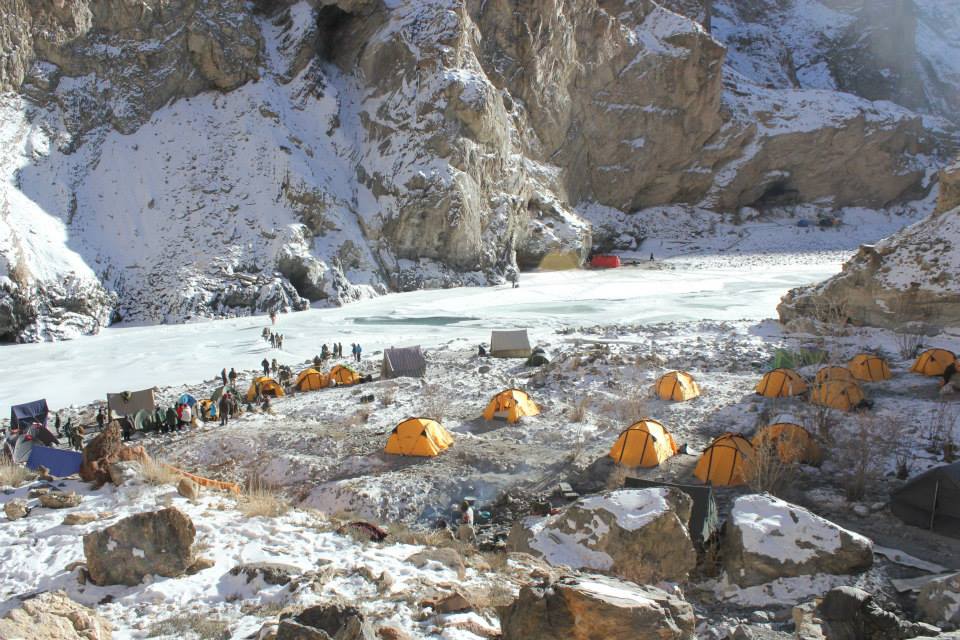 We had some inspiring gentlemen with us with a young heart and an age range of 53 to 65 years keen on adding Chadar on their list of exploits. They would usually take a head start in the morning and keep us motivated. Whenever the thought of giving up crept in my mind I would look at them and say if those guys aren't complaining or giving up who gives me the right to?!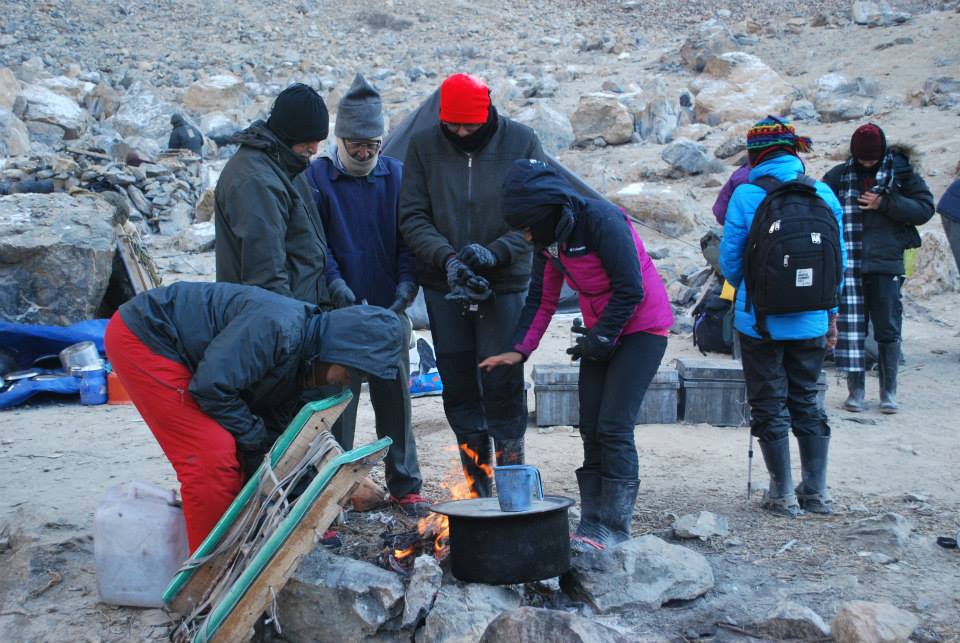 This taught me an important lesson that things in life can get tough. It is our job to keep going. To stop complaining and just keep walking. Our journey will always appear tough when we look at it in isolation. But when we start to consider everyones journey we will realise that there are people far better or worse than us and that will give us the strength that we need to keep moving forward.

It also taught me the fact that its okay to take a break at times and to check-in with yourselves. Be real with your ability to do things but also never stop testing your limits. This is what Mr Chandrashekhar, Mr Bhat and Mr Gandhi taught me.
Day 5: Trek from Tibb to Nerak
This was on our planned itinerary however we really never made it to Nerak. Nerak is the last stop in the itinerary however due to the broken ice and huge river rapids the trek leaders concluded that it was unsafe to proceed. We spent another night at Tibb. One of our trek leaders also fell ill and had to take rest. So we weren't going anywhere. We decided to just have a great time with the people.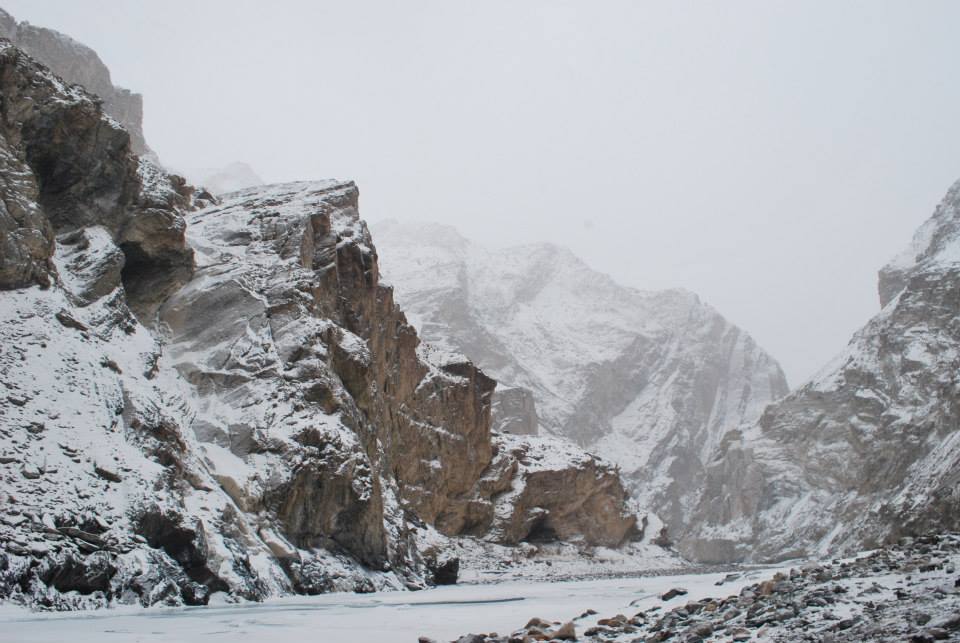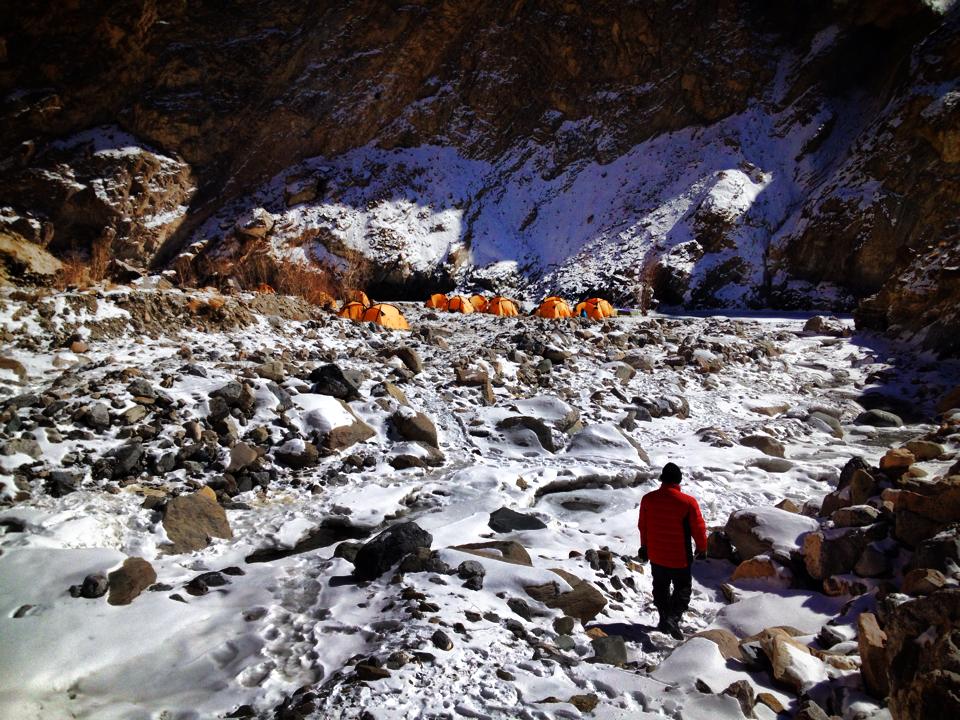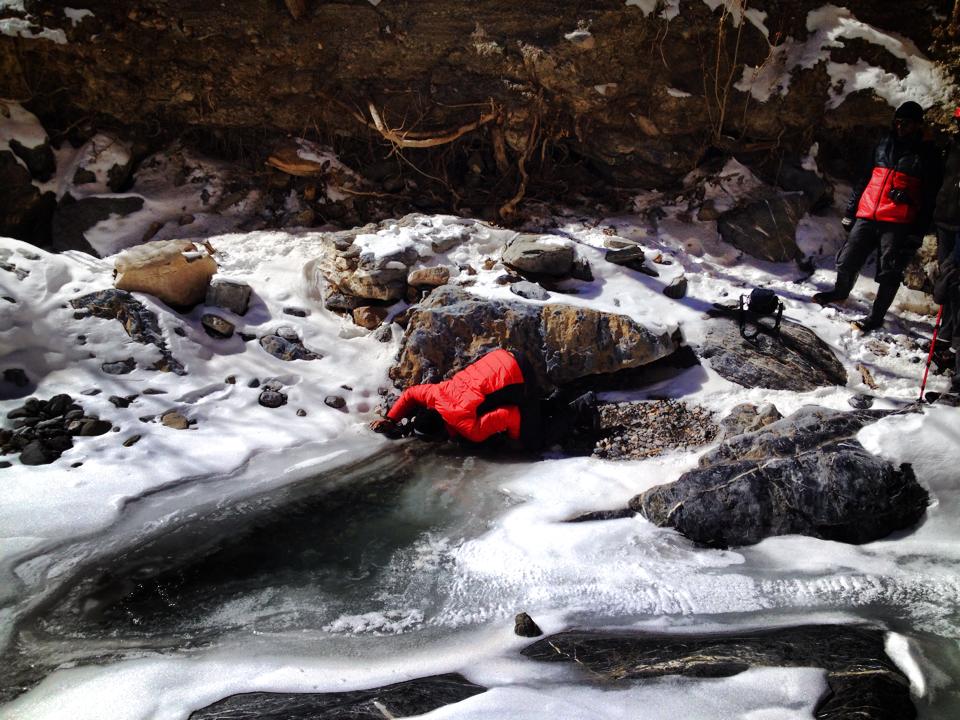 This taught me the value of having people around. We usually have heaps of people around us and yet we are governed by other stresses and distractions. Cherish each moment with the people around you.
Trek Map
What did the Himalayas teach me?
Apart from the high level lessons each day spent on the journey taught me, here is a summary of the things I learnt.
To live life with a purpose – to have a goal and stop doing things because we got to do it or because everyone does it. I always knew this but yet kept doing things that need to be done because they needed to be done. Do things you love. No more reason to it.

To stop complaining and stop giving up – we all whine about things we didn't get, places we didn't go, stuff we didn't do – and above all we believe that we deserved it. So what we didn't get what we thought we deserved, so did most people in the world. Get up and get going. Take a break when you think you need one but do not give up.

Compete with yourself – On this trek I not only tested my endurance and my limitations but my mental ability to stay focused. This trek was 30% physical and 70% mental energy. And therefore it was a real task to go on. What kept me going on was that I was doing better than what I thought I could – completing with my own self.

Be thankful for what and who you have – it is important to be grateful for what you have with you and who you have in your life. You never know when you might not have the only thing or person that mattered. Make the most of it.
Apart from life's lessons – I did bring back a lot. Initially the entire group went out there totally as strangers and as we interacted, shared, shouted, ate, laughed, pushed, walked, shivered, and shared several moments together; we became one big family. I met some of the most amazing people. What I also learnt and observed was team work and ability to work together.
I urge everyone to go through this experience once – visit Chadar and go through the entire experience. Bear in mind – its not for everyone but if you are an adventurer this is surely the thing for you.